How to apply
for a space
Ready to trial your business idea? We'll help you find the right space for your venture and guide you through the application process.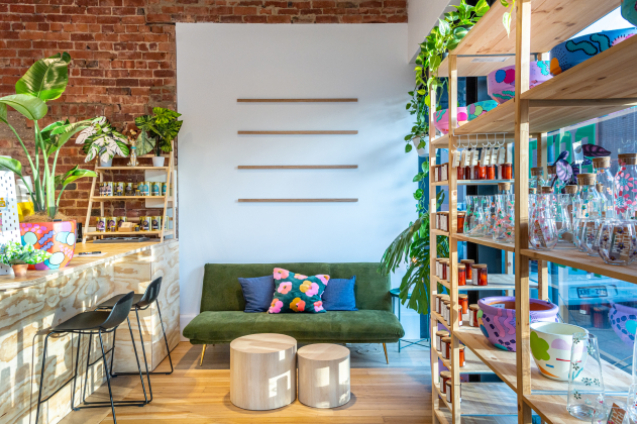 Choosing the right space for your venture
Our team has a grassroots understanding of small business. We know what you need to grow into the next stage of your business journey and we'll do as much as we can to support your success.
When you're looking for a space for your venture, you need to consider compliance requirements like bathroom access and capacity limits. Get in touch with us if you're unsure about which local government policies could impact your dream space, or if you need a liquor licence.
What we're looking for
To support the precinct's existing businesses with a new demographic of visitors, we're searching for ventures that offer a point of difference to generate hype and foot traffic, and improve the appearance of the vacant property. 
When we match you with a property owner, we make sure your goals are aligned to help you get started on the right foot. Ask us what the property owner wants to achieve in the short and long term before you get started on your application.
What to include in your application
Show us what we can expect to see if you were to take on the space and tell us how your concept will complement the existing businesses in the precinct.
We also want you to consider what your customer experience looks like; how will your patrons consume products, use services, navigate the layout, and access facilities?
Once you understand how your business will work in the space, you should submit your application with:
An outline of your concept
Projected income streams
Your fit-out ideas
How you plan to use the layout of the space
A mood board to illustrate your concept with branding, colour schemes and logos (two pages maximum)
Consider the costs
It's your responsibility to fund any modifications to the space with the property owner's permission. We recommend opting for a fit-out that's easy to remove if you need to move out of the space.
We'll help you manage any essential development applications, private certifications and base build upgrades (like grease traps). Some of the other costs you'll need to cover include: 
Electricity
Public liability and plate glass insurance
Fit out and display
Basic property maintenance
Returning the property to its original condition on exit
Marketing and promoting your project
Frequently asked questions
Q
What does a good application look like?
A
Every property owner is looking for a different outcome when they partner with us, whether it's activation, a highly convertible tenant, or a vision to reposition their asset. When a property becomes available, speak to our team about tailoring the concept to fit the space and align with both the property owner's goals and Renew's vision for the precinct.
Q
Can I have a space for a short-term activation or event?
A
While the majority of our spaces are only available on minimum 30-day licence agreements, we're open to your ideas for events and activations. Get in touch with us to discuss your concept.
Q
How does Renew Adelaide support its tenants?
A
We want our ventures to succeed, so we provide a support system that connects them with advice on everything from fit-outs and finance to marketing and events with the help of our partners. 
Q
How do your licence agreements work?
A
Our licence agreements are free for you and the property owner. Our legal partner Cowell Clarke prepares the documents where Renew Adelaide becomes the head licensor, and we hold a sub-licence between ourselves and the venture.
Q
How long can we stay in the space?
A
While we typically negotiate a minimum 30-day rolling licence with the property owner, you should discuss each individual property opportunity with us as they may differ. The property will stay on the market to give the owner every opportunity to find a rent-paying tenant. This also means that we can't guarantee long term rent-free periods.